10 best content marketing tools for 2023
Creating and distributing valuable and relevant content that appeals to current and potential customers is the essence of content marketing. This can include various forms of media such as blog posts, social media posts, newsletters, articles, emails, videos, white papers, etc. When executed effectively, content marketing showcases an organization's expertise and demonstrates the company's commitment to its audience. It's a popular topic in the business world today as it allows your organization to differentiate itself from competitors by providing useful information that is pertinent to your target audience. Additionally, content marketing can foster relationships with your audience by sharing stories about how your company is addressing their concerns and answering questions about what your organization does.
Table of Contents
Importance of Content Marketing Tools
As a content marketer, you know how important it is to produce high-quality content. And yet, it can be hard to keep up with all the different aspects of your business: marketing, product development, sales—the list goes on!
That's where content marketing tools come in! Best content marketing tools help you make sure the information you share on social media and other platforms is as good as it can be. It also makes sure that your audience finds what they're looking for when they click on your links.
10 best content marketing tools for 2023
With the rise of content marketing, it's important to know which tools are available for your business. If you're new to the space, it can be hard to know what tools will help you achieve your goals.
That's why we've put together this list of the best content marketing tools for 2023 that can help you save time and money by improving the quality of the content you create and streamlining your overall content marketing strategy.
1. Hubspot
When it comes to the best content marketing tools, HubSpot comes first.
Not only does it have free tools for writing and publishing content, but HubSpot's CMS has been used by many companies to build a world-class marketing machine. And HubSpot's marketing automation platform is unparalleled in its ability to centralize all of your content marketing efforts in one place, which means you can get more out of every dollar spent on advertising.
If you want to build a growth machine and make money on the Internet, this is the platform for you.
2. BuzzSumo
Buzzsumo is a great multi-purpose content marketing research tool that helps marketers to find the best content for their audience and get the most relevant content for their business.
The Buzzsumo Chrome Extension is an easy-to-use, free tool that allows you to quickly find and share popular content on the web.
It's easy: just enter a keyword or topic into the search bar, and Buzzsumo will instantly show you all the top-ranked results from around the web.
You can also use advanced Filters to find relevant results by category (e.g., products or services), audience (e.g., keywords), publisher/source material (e.g., blog posts), date range, social media platforms and more!
Buzzsumo also has a huge database of over 4M searchable articles that you can use to create your custom lists of essays to share with others or save for future reference.
3. Google Docs
You've probably heard of Google Docs before, but have you ever used it?
If not, it may be time to try it out. Google Docs is a free tool that allows users to create documents, spreadsheets, and presentations online. It's an incredibly simple way to collaborate with others on projects or simply just share your thoughts with the world.
Google Docs has a lot of features that make it easy for you to do your job. Here are some other ones you might want to know about:
You can create multiple versions of any document and share them with different people.
You can add comments and make changes to documents in real time. You don't even have to wait until the next working day!
If you need help, you can ask questions directly from the document itself. It's like having an instant expert right there with you whenever you need them!
There's every chance you're already familiar with these features of Google docs. Not only is Google Docs free, but it's also extremely simple to use and that makes the tool the best. It also comes with tons of plugins and features you can experiment with for the best user experience.
4. Grammarly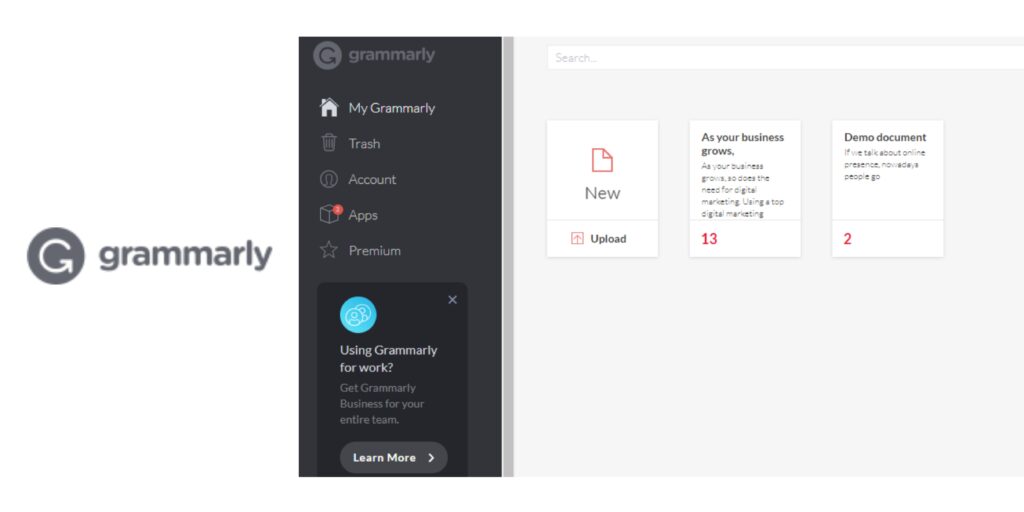 Good writing skills are essential in the business world. Bad grammar can not only change the meaning of a sentence and cause miscommunication, but it can also reduce credibility. Many text editors and browsers have tools to help, but there are a lot of things they don't look for.
Grammarly is an online grammar checker that checks your writing for more than 200 errors including run-on sentences, dangling modifiers, comma splices and more. With great features, Grammarly is one of the best content marketing tools that allow you to check your spelling with one click, which is especially helpful when you're trying to write quickly or on the fly. If you have used another grammar checker before, you will be surprised at how many mistakes Grammarly catches.
The Grammarly plugin for Chrome is one of the best content marketing software available to help you write better in any language. It checks your writing against a database of more than 100 million sentences and shows you how your text compares to the best writers around the world.
5. Canva
You need a visual marketing tool to help you create content that will get people excited about your brand.
Canva is the Best content marketing tools and easy-to-use tool that allows both novice and experienced designers to easily create infographics, social media posts, blog cover photos, and other types of visual content.
Anyone who is into content marketing knows the importance of good visual elements. Canva allows both novice and experienced designers to easily create content designs like infographics, social media posts, blog cover photos, and other types of visual content.
6. Google Analytics
Google Analytics is the best content marketing free tool that helps you track the performance of your site, and it's another important content marketing tool for small businesses used widely by most platforms online. It's a great way to understand how your audience interacts with your content, and it can also help you find out where you can improve.
Some of the features are:
-Real-time traffic reports
-Customizable reports
-Easily export data to Excel or other software
7. Trello
If you're looking for a content management tool that will help you brainstorm and strategize content for your digital marketing campaign, you can opt for Trello.
Trello is a super-simple tool that helps teams collaborate on projects. The best part? It's free!
Trello's tagline is "the simplest way to organize anything." That's because it doesn't have any frills—just an easy-to-use interface that lets people add lists and cards to those lists. And if you want more functionality than that, there are add-ons available for purchase.
For example, some add-ons let you create boards specifically for each project you're working on, or even just one big board where everyone can post things they'd like to get done. Or maybe you want to use it as an online meeting room where everyone can chat about their ideas before pitching them in real life. Whatever works best for your team!
8. Copy.ai
Copy.ai's a great tool for getting started with content marketing, but it's not just for beginners.
Copy.ai is designed for professionals who want to write well-researched and engaging content that also aligns with your brand.
If you're looking to make your copywriting more professional and polished, the templates are a great place to start—but if you want some inspiration, we've got you covered too!
Head over to Copy.ai, and you'll find all the templates laid out on the left. Just click on one of them and get started!
9. Mailchimp
Mailchimp is an all-in-one content marketing platform that helps you manage and talk to your clients, customers, and other interested parties.
With Mailchimp, you can create and send email newsletters, set up drip campaigns for content that's relevant to your audience, create landing pages for email campaigns, and more.
If you're looking for an easy way to send emails and keep track of your data—and save time—then look no further than Mailchimp!
10. Buffer
Buffer is a fantastic and one of the best content marketing tools for managing your social media presence. It's easy to get started with, and it has lots of features that help you make the most of your time on social media.
Buffer lets you publish or schedule posts at optimal publishing times, so you don't have to worry about being late for something important. You can also collaborate with other team members, which is really helpful when working on a big project together!
Finally, if you want to grow your social media following without spending any money at all, Buffer is worth checking out!
Over to You
While this list gives you the 10 best content marketing tools and strategies to think about and experiment with, the key takeaway here is that content marketing isn't going anywhere. Its importance will only increase as we move further into the future. If you want your company to be around in 2023, it would be wise to start thinking about how you can structure your content marketing strategy.
FAQ'S