10 Best LinkedIn Marketing Tips to Grow Your Startup 2023 
LinkedIn is a great place to build your brand, but it does not just belong to professionals. I have been using LinkedIn for almost 3 years now and I am still learning new things about it.
There is a whole world of possibilities available to you with LinkedIn. Using LinkedIn for business can be a primary asset to your new or established relationships and could lead to profitable sales opportunities (made possible by referrals). The great thing about LinkedIn is that it is so easy to set up and use, which makes it ideal for attracting new customers.
LinkedIn is full of opportunities, so it is important so important to know how to use LinkedIn for business. With this list of the 10 best LinkedIn marketing tips, you will be on your way to growing your business through LinkedIn!
Table of Contents
Read More- : How to use Twitter for business 2023
10 Best LinkedIn Marketing Tips
1. Know your audience & goals
Defining your audience and goals is the key to success when it comes to LinkedIn marketing. Suppose you want to sell a productivity tool for social media. In that case, your goal may be to raise brand awareness among LinkedIn members with job titles like "social media manager" or "social media lead."
Once you know who you want to target, it becomes easier to create content that will resonate with them and get them to take action.
2. Create an effective LinkedIn page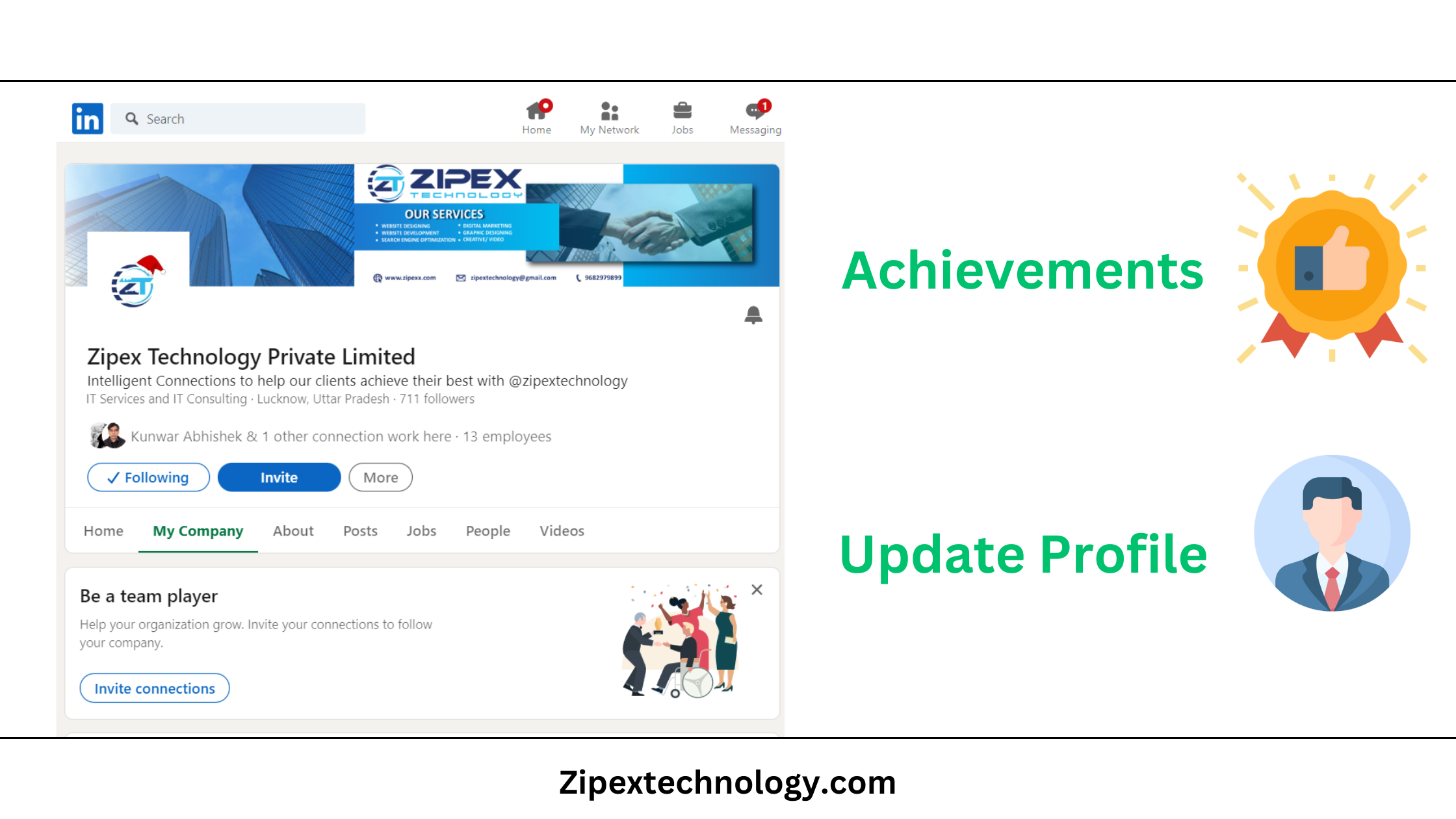 An effective LinkedIn profile should be your top priority as it is one of the top 10 Best LinkedIn Marketing Tips. Your LinkedIn page should be about connecting. Not only do you want to show off your expertise and achievements, but you should also focus on showing potential customers how you help them reach their goals, whether it is through a product or service or by providing them with the information they can use to make effective decisions.
To create a page that attracts potential clients, consider sharing:
Photos of people you have worked with and how they have helped you grow your business.
A short story about how you have helped others achieve their goals.
Videos of how you have solved problems for clients in the past.
3. Publish engaging content
If you want engagement to grow your LinkedIn page, you must create fresh content. Publishing informative content on your company page is one of the 10 best LinkedIn marketing tips to get higher engagement on your LinkedIn page.
Here are a few tips for engaging content that will help you to grow your LinkedIn page:
1. Make sure your posts are helpful and informative. When people see that you are sharing valuable insights, they are more likely to engage with you and share your posts with their networks.
2. Share social media tips. When people are looking for ideas on how to use their new tool, they will often turn to the person who shared it first and then you can also share social media tips for small businesses.
3. Use images and videos in your LinkedIn posts. People love visuals when they think about things that fascinate them—so pictures are a great way to do this!
4. Reach out to influencers and industry leaders
The best way to get the most out of LinkedIn is to reach out to influencers in your industry and connect with them. This strategy is beneficial as you can get them to support your business. Converse with them, and ask them for guidance. LinkedIn is perfect for networking as well.
You can also use LinkedIn tools to find the Top Talent in your specific industry for a better understanding of what skills you need to hire for your company's needs.
LinkedIn is a fantastic platform for marketing and advertising, and with the help of these 10 Best LinkedIn Marketing Tips, you can increase brand awareness because it allows you to reach people who are interested in what you are. You can then use that information to craft an engaging message that will make someone want to engage with you further on social media platforms such as Facebook or Twitter.
Read More-: Influencer Marketing: Does it Work?
5. Highlight your best content
If you are looking for the best LinkedIn marketing tips that work then one of the first things you should do is highlight your best content.
You do not have to go overboard—you only have to make sure it is at least 50 characters long and includes your name and a backlink to your website or blog. Then, boost your content directly in your audience feeds, using Sponsored Content.
6. Be consistent
If you want to be successful on LinkedIn, Being consistent is one of the most impactful and 10 Best LinkedIn Marketing Tips. It will help you build a loyal following who will check in regularly to see what new content you have posted.
You should also make sure that your posts are relevant and eye-catching so your content grabs the attention of your potential customers.
7. Use Trendy LinkedIn Hashtags
When we talk about posting content on LinkedIn, you have many options and tricks but here in this blog mentioned 10 Best LinkedIn Marketing Tips have everything you need to grow your business page.
There are many features on LinkedIn, You can share your thoughts in the comments section or you can use the chat box to stay in touch with your target audience. But what if you want to get people talking about your business? One option is using hashtags.
Now the platform recommends adding hashtags to LinkedIn posts and even suggests relevant ones.
8. Keep yourself updated with the latest trends
You never know when something will come up on LinkedIn that will help your business—a new client or customer comes to mind! So make sure your profile is up-to-date so people can find out about your uniqueness.
The best way to keep yourself updated is by checking out LinkedIn posts and blogs and reading their articles.
Another thing you can do is join groups on LinkedIn that are related to your business or industry. It will allow you to interact with other people who have similar interests as yours and get valuable advice from them.
9. Complete your profile
The best way to attract a target audience is to showcase your brand value in your LinkedIn profile. An attractive and professional profile will help you grow your online presence and attract more people.
Add keywords and descriptions in the Description section so that your profile is easy to find by people who are searching for people in a specific industry or job category. Make sure to use relevant keywords so that your profile shows up in search results.
Include a picture of yourself or at least a headshot. It makes it easier for people to remember who you are, and if they see something familiar, they will be more likely to click on your profile!
Again as we are sharing the 10 best Linkedin marketing tips so it may grow your business with effective LinkedIn marketing, so do not hesitate to showcase your brand value.
10. Get advanced with LinkedIn analytics
How do you know if your LinkedIn marketing posts are working?
It is no secret that LinkedIn is a great place to find new contacts and build relationships with your existing customers. But it can be hard to figure out where to start—you do not want to spam everyone on the site with too many posts, but you do not want to post something that is going to be unseen by everyone.
LinkedIn has powerful tools for tracking your posts and their performance. You can use these tools to see how many people saw your post and how many of those people opened it or clicked through on it. Then you can create a better strategy that the next time you post something, it is going to be more effective!
Conclusion
In the end, above mentioned 10 best LinkedIn marketing tips are to encourage you to be active on Linkedin and boost activity to generate leads and grow your business. Remember, your goal should be to create a large number of connections as well as a high level of engagement. With just a little attention and work, you will develop a large network that will allow you to promote yourself and build a personal brand.
FAQs
1. How can I grow my Page follower base on LinkedIn?
If you are looking for ways to grow your page follower base, we recommend posting regular and engaging content.
Posting compelling content that fits with your brand will help you stand out from the crowd. For example, if you are an educational institution, posting content about how children can improve their reading skills would be a great way to engage followers.
We also recommend engaging with other companies on LinkedIn by commenting on their posts, connecting with them on LinkedIn, and asking questions when they post in groups or forums. It will help you share your knowledge, build relationships with other experts in your industry and make connections that could lead to more business opportunities in the future!
2. What is the best way to approach a recruiter on Linkedin?
The best way to approach a recruiter on LinkedIn is by sending a request to connect. You can also send your resume, but you should make sure to stay in touch with the recruiter as well.
Once your recruiter accepts your request and receives your resume, they will send you an email asking you to schedule an interview. Now when things get a little tricky: if you receive no response from your recruiter after scheduling an interview, then there is nothing else for us
3. How often should I update my LinkedIn profile?
It is totally us to you!
You can update your LinkedIn profile as often as you feel necessary, but we recommend you do it at least once every couple of weeks.
4. How do you maximize engagement on LinkedIn?
Engagement on LinkedIn is a tricky thing.
You want to be sure that your updates are engaging enough to keep your audience interested but not too much so they get bored or distracted by the message.
The best way to ensure that your messages are both fascinating and engaging is to have them come from a person—not just a company, but someone who represents the brand.
If you can find someone who is well-spoken and has a personal story about their experience with the company or product, then they will be able to help make your content more effective for engagement.
5. What are LinkedIn Ads?
LinkedIn Ads is a paid advertising tool that lets you advertise to people who are interested in what you do. You can promote products and services, post job listings, and more. The ads are targeted based on your business profile and industry, so they are relevant to your brand and the people who like it.